Painting The Christopher Martin Collection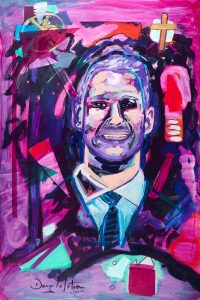 On Thursday, June 21st, 2018, I was painting on Main Street in Edmonds, WA when a woman, Pam Martin, approached. She was struck by the colors and vibrancy of my art. She was particularly intrigued by two abstract portraits. She asked me if I would paint a representation of her son, Chris,' life. Chris had taken his own life one year earlier when he was 20 years old.
Pam and her husband, Phil, wanted a portrait that represented Chris as well as their feelings around this tragedy.
Pam loved my use of color and wanted me to use aqua and magenta in the painting. She showed me a tattoo on her wrist, a broken heart bisected by the cross of Jesus. Phil had a Celtic cross tattooed on his ankle. The letters CWM stood strongly at the intersection of the cross. She wanted those images reflected in the piece. She also handed me a photo of Chris in a suit and tie, his genuine smile warmly greeting me.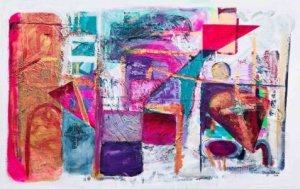 I chose a 32" by 48" canvas for the work. To me every choice from the size of the canvas to each individual brushstroke is intensely important in capturing a person's essence. I selected a canvas on which I had already painted a piece entitled "Genius With Emerging Ideas." It felt just right. Painting over an existing painting is called "Pentimento." I employ this technique as it adds an element of of structure and depth to the work.
In order to ready myself for this emotionally challenging task, I began by painting four 48" square paintings in an installation I named "Serenity." Next I painted another abstract called "Tranquility." Working on and off for 5-6 weeks I had a completed painting with the images and life force that truly represented Pam and Phil. But I struggled to find Chris. I felt a deep connection to him, but somehow his spirit was alluding me.
One evening I was struck by a fierce impulse to paint. I created a black and white abstract movement piece. Looking over the image the following morning, I wondered to myself whether Chris would like it. Instantly an intense swirling of energy began coursing through my body. It was a feeling I had never experienced. Then I said aloud, "Chris, do you like this?" and the vibrational current intensified. I knew that Chris was with me. A few days later, I had completed a striking, yet contemporary and abstract, representation of Chris.
Pam and Phil were deeply impacted by both paintings. They plan to hang these pieces in their home or in the office of their new foundation, RADical Hope, which was created in honor of Chris.
RADical Hope is dedicated to improving the lives of those suffering from or at risk for mental illness. Please visit their website at www.radicalhopefoundation.org to learn more about the foundation and how you can help radically address this crisis.
Painting The Zachery Sumner Collection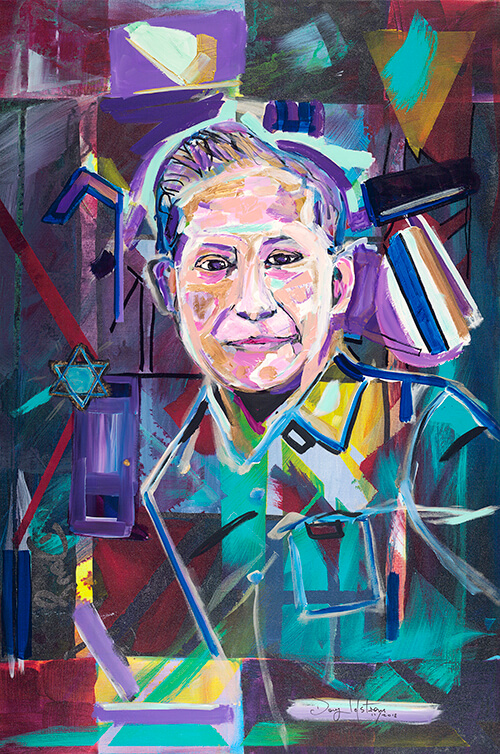 September 2018
Within days of finishing the Christopher Martin Collection, I was telling my friend Debra Gettleman about it and she exclaimed "Oh My God, my friend Francine lost her 16 year old son Zachary to suicide at about the same time." She asked me if I would paint a portrait of Zach. I have told the story of Chris and Zach in a recent podcast (go to the blog tab on the website dougloft.com.) The weirdness of all of this is I am not a portraitist—and yet somehow the portraits of both Chris and Zach turned out to be quite stunning.
One of the oddities of the portraits is the following: Both young men were very handsome and looked their age. Yet when I painted them I saw them at different ages as well. That is the magic of painting a portrait. It leaves something to the imagination.
The foundation "Kid in the Corner" became a reality when Zach's mother, Francine Sumner, decided to do something about the suicide rate among young people in the U.S. A key part of the mission of the Foundation is to encourage people to take the "Penny Pledge." In part the Pledge says
I will reach out to the kid in the corner.
I will be aware of my own mental health and realize there is strength in asking for help.
I will be a safe a caring person that others can talk to.
For information on "Kid in the Corner" go to www.kidinthecorner.org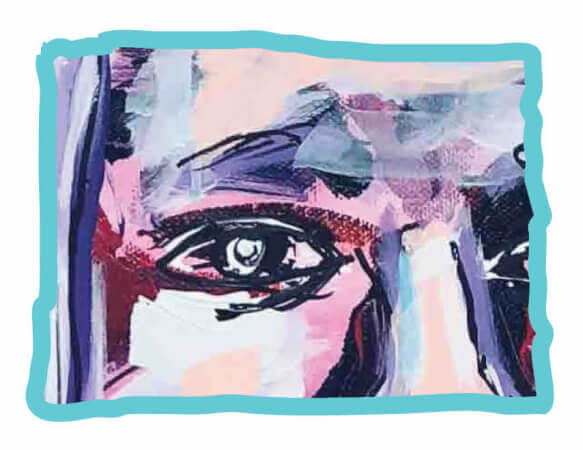 Doug Lofstrom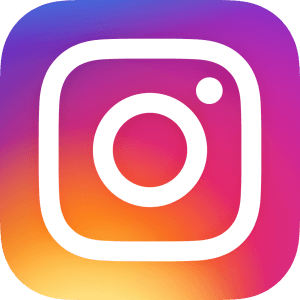 Art On Display At
Community Life Center – Lynnwood, WA
The Bell House
Windermere Real-Estate Edmonds, WA
Located in Edmonds, WA